Once I saw Gabrielle Corcos & Debi Mazar make homemade limoncello on Extra Virgin on the CookingChannelTV.com, I just had to try it. Then I watched Valerie Bertinelli make her delicious Challah Bread Pudding with Limoncello, and I was hooked. I've tweaked both a bit and you'll find the recipe for the limoncello below. Be patient, and then ENJOY!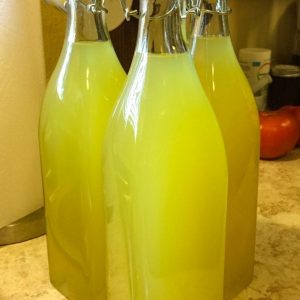 Homemade Limoncello Recipe
Ingredients
16-20

1

Organic Lemons

The lemons MUST be organic.

1.75

L

Tito's Handmade Vodka

You can also use Everclear, but I found it too bitter. Use a vodka you would drink. 100 proof usually recommended. I like Tito's Handmade Vodka (80 proof) because it yields a very smooth limoncello.

1.75

L

Filtered Water

6

C

Granulated Sugar

Give or take depending on how sweet you'd like it.
Instructions
Thoroughly wash a large glass mason jar with a wide, airtight lid.

Add 1.75L of alcohol to the jar.

Thoroughly wash 4-6 organic lemons and add to mason jar. Make sure the lemons are almost completely submerged. The vapor from the alcohol will continue to dissolve the oils from any parts that are not submerged, but the submerged rind will give up its oils faster.

Tightly close the jar and place in a dark, cool location. Gently shake every day or two for 7-10 days.

Remove the lemons and set aside for juicing. Add 4-6 freshly washed organic lemons and repeat step 4 at least 4 more times over 6-8 weeks.

Make a simple syrup by heating the filtered water to a boil and adding about 6 cups of sugar. Stir until dissolved and allow to cool completely. You can adjust the amount of sugar depending on your sweet tooth.

Remove the final batch of lemons and strain the alcohol into a clean container. Wash the mason jar and add the alcohol back into it.

Add the cooled simple syrup to the lemon-infused alcohol. Reseal the mason jar and store in a cool, dark place. Shake or stir every few days to make sure that the sugar does not recrystallize on the bottom. Allow the limoncello to "brew" for about a month. Surprisingly, it might be a bit carbonated at the end of this process. Be careful opening your bottles!

Thoroughly wash several rubber-stopped bottles. Stir the limoncello well before filling bottles. Leave plenty of headspace in the top of your bottles. Store them in the freezer.
Equipment
2 Gallon Mason Jar
I prefer glass wide mount mason jars with plastic lids for this recipe.