Here's my take on one of my all-time favorite cookies, an old, old recipe from Betty Crocker's Cooky Book (©1963) for Candy Cane Cookies.  Yes, they did spell it "Cooky." I've tweaked the recipe here with the weight of the flour because this is one of the very rare recipes that requires measuring flour via the "dip method." You get a very different measurement this way because you compact the flour as you dip, as opposed to sifting or scooping and leveling. The density of the flour is much higher when you "dip." I find I'm using a scale more than ever these days. This at Target gets 4.8 stars from almost 1900 reviews, has a 15-pound capacity, and a limited lifetime warranty. With an easily cleaned glass top, you really can't go wrong with this one.
Jamie over at MyBakingAddiction.com has a great post describing her experiment with the difference between the two methods. She came up with 6 oz/cup with the dip method versus 4.25 oz/cup by scooping and leveling. That's a 40% difference, which can be a HUGE deal in baking. Her post also includes common weight conversions for flours, sugars and butter.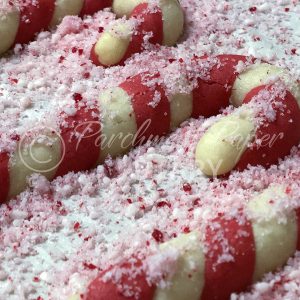 Candy Cane Cookies
Ingredients
1/2

cup

Butter

Softened

1/2

cup

Shortening

Butter flavored

1

cup

Confectioner's Sugar

Sifted

1

Large

Egg

1 1/2

tsp.

Almond Extract

1

tsp.

Vanilla Extract

12.5

oz.

All Purpose Flour

2 1/2 cups by dip method

1

tsp.

Salt

1/2

tsp.

Red Food Coloring

Be careful of those allergic to Red #40. You can use the following vegetable-based color…

1/2

tsp.

Vegetable-based Red Food Coloring

1/2

cup

Crushed Hard Peppermint Candy

Do not use soft peppermints

1/2

cup

Granulated Sugar

1/2-1

tsp.

Peppermint Oil Flavoring

Not 100% peppermint essential oil
Instructions
Crush the hard peppermint candy using a food processor. If using large peppermint sticks like I do, first break them up by putting them in doubled plastic freezer bags and using a meat mallet or frying pan. Once the peppermint candy is crushed well, add the peppermint oil and granulated sugar to the food processor and pulse briefly until mixed. Store the mixture in a mason jar with a shaker lid for easy application to the cookies later. I really like the Spangler Jumbo Candy Cane Sticks because then I have peppermint leftover for Peppermint Stick Ice Cream!

Heat oven to 375°F (I use 380°F for 11-12 min. at 5,000 ft).

Cream shortening, butter and confectioner's sugar together. Add the egg and flavorings. These do not combine very well with the butter mixture at this point. That's ok. Keep going.

Mix the flour and salt together. Mix into butter mixture gradually. If you measure flour with a measuring cup, this is one of very few recipes where you should use the dip method, i.e. use the measuring cup to dip into the flour container. This will result in a bit more flour than the standard spoon and sweep method because you will pack more into the measuring cup. One cup of flour measured via the dipping method will weigh about 5 oz. where one cup measured via "spoon and sweep" will weigh about 4.5 oz. See also http://cafefernando.com.

Divide dough in half (use a scale). Blend food coloring into one half. I typically make two batches and add 1 tsp. of food coloring into one batch.

Because this dough is very tender, I use a 1 1/2 tsp. (1/2 Tbls.) measuring spoon to make balls of each color. Cover tightly and refrigerate until cold. I also use a very smooth countertop to roll these out, cleaning it frequently. The original recipe recommends using a lightly floured board. The choice is yours.

For best results, complete one cookie at a time. Once the dough is cold, roll one ball of each color into a 4-inch strip. Do not roll out all strips of one color and then the other because they will dry out before you twist them together. Place the strips side by side and twist them together. Complete just a few twists and then roll the entire cookie to make its surface smooth. As you are smoothing it, you can add more twists and make it longer.

Place the cookie on a sheet pan covered with parchment paper or on an ungreased cookie sheet. Curve the top down to create the handle of a candy cane. Since I finished my cookies this year after New Years, it struck me that I could also form a loop, pinch the ends together and create a heart for Valentine's Day.

Bake the cookies for 9-12 minutes until lightly browned. While still warm, remove the parchment paper from the sheet pan and sprinkle with a mixture of the crushed peppermint candy and granulated sugar. I also added 1/2 – 1 tsp. of oil-based peppermint flavoring to the sugar to enhance the flavor of the mixture.