As an homage to our new home, Albuquerque, NM, my first recipe published on this blog is for Carne Adovada (AKA red chile-braised pork). Never thought I'd be cooking with chiles, much less straight up New Mexican chile, having come from the heart of "meat and potatoes" in Minnesota. There, "heat" is defined by "mild Italian sausage."
When I went looking for a good recipe for Carne Adovada, I came across two recipes that struck my fancy, while both being authentically New Mexican. The first is from the Santa Fe School of Cooking. How could I possibly get more authentic than that? I didn't have a couple of the ingredients, so I kept meandering. Then I came across MJ's Kitchen. Somewhere between the two, and with a couple of extra tweaks, I came up with a recipe that works well when I forget to start the day before and marinate the pork in the chili sauce like MJ does.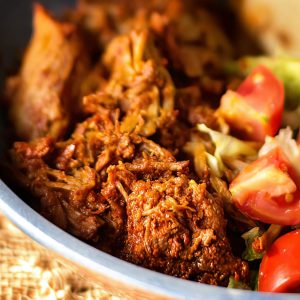 Carne Adovada (Red Chile-Braised Pork)
Ingredients
2

lbs

Pork

Shoulder or Loin

2

Tbsp

Bacon Fat

0.5

Cup

Onion

Minced

2

tsp

Oregano

Mexican

4

cloves

Garlic

Minced

0.5

Cup

Chile Powder

Pure Red Chile Powder, mix of mild, med. and hot, New Mexican, of course

1-2

Tbps

Ancho Chile Powder

1

tsp

Salt

1

tsp

Apple Cider Vinegar

0.5

tsp

Honey

2

Cups

Chicken Stock

Homemade is Best
Instructions
Trim the fat from the pork and cut into 1/2-1 inch cubes.

Melt the bacon fat in a large skillet and brown the pork in batches to avoid steaming the meat. Set the pork aside.

Add the onion to skillet and sauté until translucent. Add the garlic and sauté for about 1 minute. Deglaze the skillet with 1 cup of the chicken broth.

Place the browned pork, onions and garlic, along with the remaining ingredients and the remaining 1 cup chicken broth in an ovenproof pot or covered casserole, stir to combine well, and cook for 2-2 1/2 hours or until the pork is tender.

Serve with rice and/or refried beans wrapped in a flour tortilla or taco-style in Baco bread with lettuce, avocado or guacamole, sour cream, cheese of your choice, cilantro, etc.